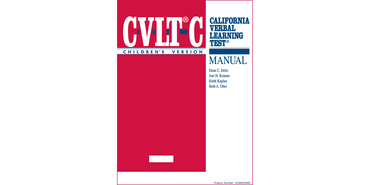 California Verbal Learning Test Children's Version
CVLT-C
CVLT®-C California Verbal Learning Test® Children's Version is used to assess verbal learning and memory in children and adolescents. Useful in various settings to identify learning and memory difficulties, isolate deficient learning strategies, and assist in designing remediation programs. Guidance on using this test in your telepractice.
Kits

Starter & complete kits, print & digital

Test forms reports

Booklets, record forms, answer sheets, report usages & subscriptions

Support materials

Manuals, stimulus books, replacement items & other materials

All products

All tests and materials offered for CVLT-C
CVLT-C Q-global Manual (Digital)

A103000232436

Qualification Level

C

Once ordered, the digital asset is accessible by logging into Q-global and visiting the Q-global Resource Library. It is a view-only digital file.

CVLT-C Complete Kit (Print)

0158033957

Qualification Level

C

Includes Manual (Print) and 25 Record Forms (Print)

Estimated to ship:1-2 weeks

CVLT-C Manual (Print)

0158033965

Qualification Level

C

Estimated to ship:4 weeks

CVLT-C Record Forms Qty 25 (Print)

0158033973

Qualification Level

C
Overview
Publication date:

1994

Age range:

5 through 16.11 years

Qualification level:

C

Completion time:

15 to 20 minutes, plus a 20-minute interval to accommodate delayed recall measure

Norms:

Nationally normed age-based sample available on 27 key indices

System requirements:

Please note that the software is compatible with Windows XP only.

Telepractice:
Product Details
CVLT-C evaluates children and adolescents with learning and memory impairments that may have resulted from traumatic brain injury or are evidenced by mild to severe learning disabilities, attention-deficit disorders, intellectual disability, psychiatric problems, or other neurological disorders.

Benefits

Identify learning and memory difficulties.
Isolate deficient learning strategies.
Use to design remediation programs.

Features

CVLT-C produces a detailed analysis of the child's performance on recall measures, learning characteristics measures, areas of recall errors, and contrast measures.

Memory task
Interference task
Detailed analysis
Scoring software, CVLT®-C Scoring Assistant® with Report Writer™

Telepractice

Find out how to use this test in your telepractice.