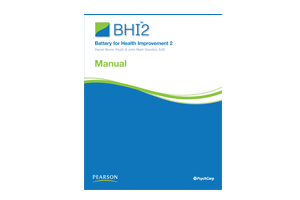 Battery for Health Improvement 2
BHI 2
Battery for Health Improvement 2 (BHI™ 2) presents concise, coordinated assessments of the biopsychosocial issues most relevant in evaluating patients with injuries. Guidance on using this test in your telepractice.
Test forms reports

Booklets, record forms, answer sheets, report usages & subscriptions

Support materials

Manuals, stimulus books, replacement items & other materials

All products

All tests and materials offered for BHI 2
BHI2 Q A/S

46128FM

Qualification Level

B

BHI2 Q LOCAL ANSWER SHEETS

BHI 2 Manual (Print)

46120

Qualification Level

B

BHI 2 Test Booklet (Print)

46145FM

Qualification Level

B

BHI 2 Basic Interpretive Report Q Local Administration/Report Qty 1 (Digital)

51626

Qualification Level

B
Overview
Publication date:

2003

Age range:

Individuals 18-65

Qualification level:

B

Completion time:

 Approximately 30 minutes (217 multiple-choice)

Administration:

Paper-and-pencil, computer administration

Telepractice:
Product Details
The BHI 2 test helps caregivers shape an appropriate treatment plan that may reduce treatment time and improve a patient's quality of life.

Benefits

Evaluate a patient's readiness for medical and behavioral interventions.
Meet evidence-based medical treatment guidelines outlined for good clinical practice.
Measure the relationship and impact of physical, environmental, and psychological factors on the patient's treatment.
Support evaluations involving injuries, worker's compensation, and psychological factors.
Evaluate treatment effectiveness and monitor clinical outcomes.
Facilitate communication within a multidisciplinary treatment team or between physicians and psychologists.

Features

BHI 2 test can be used by psychologists, psychiatrists, anesthesiologists, neurologists, physical therapists, surgeons, rehabilitation specialists, and nurses.

Objective results help reduce treatment time, improve treatment planning, and improve the patient's quality of life.
Measurement of numerous outcomes, including reduction of pain, improvement in function, and satisfaction with care.
31 items highlight clinical concerns such as Addiction Concerns, Compensation Focus, Sleep Disorders, Satisfaction with Care, Suicidal Ideation, and Violent Tendencies.
Content areas within each scale help distinguish specific reasons for problems.
BHI 2 instrument compares the patient to individuals with a similar condition for the five reference groups: head injury/headache, neck injury, upper extremity injury, lower extremity injury, back injury.
Normed using a sample of 725 community individuals and a sample of 527 physical rehabilitation and chronic pain patients.

Scales

Telepractice

Find out how to use this test in your telepractice.
Sample Reports

Medical Intervention Risk Report: provides a half-page graphical profile succinctly summarizes patient scores on 5 Psychosocial Risk Factors and 2 Nonadaptive Coping Styles.

Progress Report: enables the clinician to monitor the patient's progress over time.

Profile Report: provides a patient profile that includes a graphical representation of the patient's raw and T scores in comparison to both the patient and community norms.

Basic Interpretive Report: provides a concise interpretation of test results, including a profile graph and scale summary.

Enhanced Interpretive Report: provides a more extensive interpretation of the patient's test results, including in-depth scale category narratives.