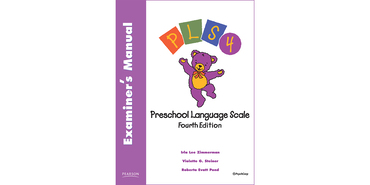 Preschool Language Scale |Fourth Edition
PLS-4
Preschool Language Scales, Fourth Edition (PLS™-4) is an interactive assessment of developmental language skills.
PLS-5 Rattle-Dark Blue

0154028568

Qualification Level

B

PLS-5 Small Car Preschool

0158659554

Qualification Level

B
Overview
Age range:

Birth through 6:11

Scores/Interpretation:

Total Language, Auditory Comprehension, Expressive Communication, Standard Scores, Percentile Ranks, Language Age Equivalents

Qualification level:

B

Completion time:

20 to 45 minutes

Administration:

Manual administration

Scoring options:

Manual scoring

Norms:

New norms are based on a larger, more diverse sample of approximately 1,500 children, including children with disabilities. 39.1% of this sample consists of ethnic minorities.
Product Details
Preschool Language Scales, Fourth Edition (PLS™-4) is an interactive assessment of developmental language skills.

The latest assessment, the PLS-5, is now available.

Features and Benefits

For children birth to 2.11, there are more items targeting interaction, attention, and vocal/gestural behaviors.
For 5 and 6 year olds, there are more items targeting early literacy and phonological awareness skills that tap school readiness.
Includes reproducible Caregiver Questionnaire in which parents or caregivers share their knowledge of the child's typical communication at home.

Resources